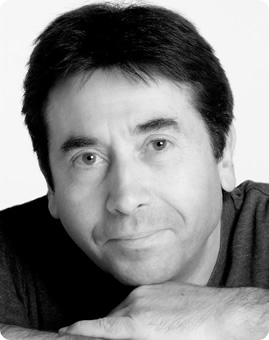 David Janson, an acclaimed actor & established voice artiste
An accidental audition as a young boy was the spark for David Janson to become one of Britain 's best- known faces of stage and television. The 8-year old David decided to accompany his sisters to an audition but unwittingly got roped into doing some acting by an over-zealous drama teacher. That day, David caught the showbiz bug. Saturday drama school followed; a washing powder commercial beckoned, and David never looked back. Now after regular roles in numerous television comedies including Herr Flick in 'Allo 'Allo and Michael the Postman in Keeping up appearances, David is one of our best-loved character actors.
But there is much more to David Janson than television – he is an acclaimed stage actor having performed everything from Shakespeare in fringe theatre in London to Ayckbourn in dinner theatre in Hong Kong . He is an accomplished director and has his own radio production company producing commercials for the UK and overseas.
Born in Clapham on 30th Match, David had not showed much interest in acting until that fateful day, and certainly did not come from a theatrical background – his father was a mechanical plant engineer. From the age on 9 to 17, David attended drama school and appeared on the West End stage at the age of 12 in the original stage musical production of Oliver. At 13 he went on tour with the RSC in A Midsummer Night's Dream with Diana Rigg, Ian Holm, Michael Williams and Ian Richardson. He then made A Hard Days Night with the Beatles and three years later, he went to Stratford for the RSC 1965 season in productions of Love's Labours Lost, The Merchant of Venice, Timon of Athens and Hamlet alongside Glenda Jackson, Eric Porter, Paul Scofield, David Warner, Janet Suzman and Peter McEnery.
Soon after leaving drama school, David was offered work in a new, twice-weekly soap opera for the BBC, The Newcomers. Starring alongside Wendy Richard and Alan Browning, David was part of a viewing ritual for millions of people.
Throughout the 1970's and 80's David's television career blossomed. His work included the RAF sit-com Get Some In which ran for five series and two summer seasons; Grundy with Harry H. Corbett of Steptoe fame, and Don't Rock the Boat.
His stage career also took off and included starring roles in hugely successful tours of The Rivals by Sheridan, and Run For Your Wife by Ray Cooney; Roll on Four o'clock at the Palace Theatre; My Giddy Aunt with Molly Sugden and A Midsummer Night's Dream at Holland Park. David really enjoys performing Alan Ayckbourn plays having appeared in productions of Seasons Greetings, Taking Steps, Relatively Speaking, How the other Half Loves, Time and Time Again and Absent Friends.
He starred in the Musical What about Luv at Holland Park and also the musical version of Jack The Ripper. David is also a veteran of pantomime with numerous starring roles under his panto belt including Buttons in Cinderella at Canterbury , Dick Whittington in Bognor Regis, Aladdin in London 's Shaftesbury Theatre in the West End starring alongside Richard O'sullivan, Derek Griffiths, Gill Gascoine, Roy Kinnear and Tommy Trinder. At Bromley with John Inman and at Redhill where he topped the bill as 'Wishee Washee'. David has also branched out to play the villain, the Sherriff of Nottingham, in the stage production of Robin Hood.
In addition to his successful acting career, David has also expanded his active interest in the production side of the business. He was assistand director in a series of language videos for Oxford University Press, in which he also starred, and directed the very successful tour of The Other Side of Chris Barry and a tour of Absent Friends. David continued his love for panto directed several productions of Aladdin, Jack and the Beanstalk, Peter Pan and of course Cinderella.